Inspired by the vision of Shambhala to establish enlightened society based on the principle of basic goodness, the mission or our retreat centre is to make available to as many people as possible an environment which is conducive to practising meditation, receiving dharma teachings and making friends with ourselves.
In line with this vision, we are concerned to ensure that finances should not be a barrier for anyone. In order to accomplish this, we appeal to the generosity of the members of our community.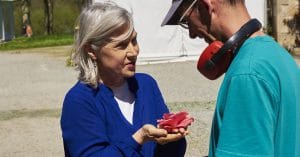 Donations are therefore an essential component of Dechen Chöling finances and sustainability. The acquisition and renovation of the château and its grounds in 1994 were financed in this way. Since then, we have relied on these contributions every year in order to maintain and develop our facilities and to increase our capacity, and we have also use them to make our programmes more accessible to people with lower incomes through concessions, scholarships, sponsored positions. See our financial policy.
We warmly encourage you to help us make this place flourish, and by doing so to cultivate the precious quality of generosity for yourself.
May the Shambhala Centres radiate kindness and inspiration. May they continue to expand, allowing a multitude of warriors to train.
Excerpt from ASPIRATION OF SHAMBHALA – Fulfilling the Wishes of the Dorje Dradül
How to make a donation?
Here are the banking details for the countries where you can make a payment. Please give the following reference: "Donation to Dechen Chöling".
For any information on donations, you may contact Nathalie Barré, our Head of Finances:
f[email protected]
Phone: +33 (0)5 55 03 98 52
France
Association Shambhala Europe
Banque Tarneaud – 2-6 Rue Turgot – 87011 Limoges Cedex
IBAN : FR76 1055 8045 0711 7516 0020 410
Swift/BIC : TARNFR2L
Germany
Shambhala Europe GMBH
Banque Koelner – Im Ferkulum 4 – 50517 Koln
IBAN : DE24 371600870535586071
Code Swift : GENODED1CGN
Netherlands

Shambhala Nederland
Banque Triodos – Utrechtseweg 44 – 3704 HD Zeist, Hollande
IBAN : NL83 TRIO 0784 9120 68
Code Swift : TRIONL2U
Switzerland
Berner Kantonalbank – Bundesplatz 8, CH-3001 Bern
BIC No KBBECH22XXX
IBAN No CH87 0079 0042 3557 0012 5
For more information, please contact May Isler, [email protected]
United Kingdom
London Shambhala Meditation Centre
Co-operative Bank – PO Box 250, Delf House, Southway, Skelmersdale
WN8 6WT, UK
Acct. No: 65151648
Sort Code : 089299