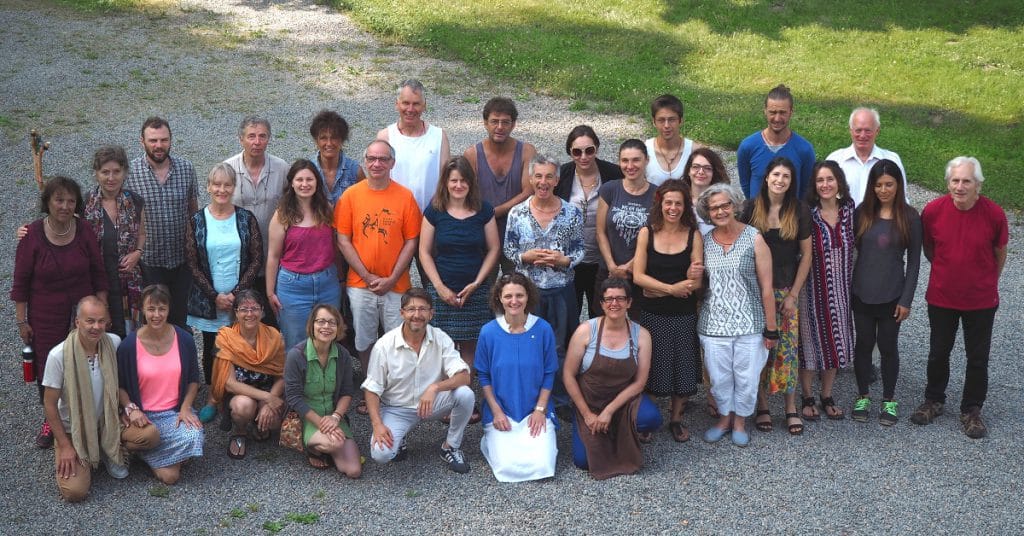 Dechen Chöling is the European land centre of the Shambhala lineage, situated in the midst of beautiful soft green hills and magnificent old trees in the region of Limousin, France. People from any spiritual or religious background come from all over the world to discover the richness of their own potential through practicing meditation and other contemplative disciplines. We offer a wide variety of programmes and retreats contributing to create a culture of basic goodness within the society. We're welcoming hundreds of participants each year, beginners or experienced practitioners.
Staff conditions
The heart of Dechen Chöling is a community of practioners. Working in Dechen Chöling goes together with daily practice and community life on land.
The working day is varied and depends on your role and department. Staff have the opportunity for at least two hours of personal practice per day, regular teachings by local and visiting teachers, community celebrations, study classes and, in the summer, the Dechen Chöling tradition of swimming in the near-by River Vienne. The day starts at 8.30 am with morning meditation, followed by the "daily gathering" at 9.30 am, where work and other issues are discussed, before starting work at 10 am.
All staff participate on a rota to do household jobs.
Practice times are in the morning before the daily gathering and in the evening from 6.00 to 6.45 pm
There are two days off per week and staff receive 5 weeks holiday per year.
All staff have a meditation instructor and the opportunity for regular interviews and teachings
All staff go through a probationary period for the first month to see if they and Dechen Chöling are happy with the arrangement before making a longer term commitment.
---
We are currently recruiting for the following staff positions:
Programmes Manager
Full time position available now
Requires 2-3 year commitment

This position offers a wide range of responsibilities and tasks. It requires a deep understanding of the Shambhala vision and mission and a commitment to our path. Having attended Sacred World Assembly is a prerequisite.
Qualities:
Strong organisational and communication skills
Interest in hospitality and hosting others
Dependability
Ability to stay focused and flexible in a demanding environment
Computer literacy
French and English spoken
Tasks:
Holding the process of yearly programme planning and programme development
Overview and managing the programme budget (including teacher honorarium and travel and shopping for programme needs)
Organizing appropriate staff for programmes
Overseeing the programme assistants
Preparing for the teacher arrivals, overviewing of set up and take down of programmes
Liaising with the programmes while they are taking place
Leading operational meetings and liaising with the following departments: Facilities, Practice & Education, Finance, Front Desk, Household, Kitchen, Rusung, Audio/Visual and Boutique
Ongoing communication with Shambhala International and Shambhala Europe
Working with the Marketing Department on vision and potential markets for programmes
Acquisition of programme and practice related materials
Allocation of accommodation for programme teachers and programme staff
Managing Programme Department computer files and folders
Head of Kitchen
Full time position
Start date: February 2018
With overall responsibility for Dechen Chöling's kitchen, the Head of Kitchen holds the view that kitchen and food are at the heart of life at this retreat centre. This supplies providing wholesome and delicious food for visitors, participants and staff, and fostering an uplifted kitchen environment mixing discipline and joy.
Key tasks and responsibilities
Supervising between 2 and 12 people including lead cooks, kitchen assistants and volunteer prep-chefs from programmes.
Organisation of: weekly menus, work shifts, the supervision of food orders and supplies, within budget and the management of stock and food storage space.
Regularly orient and train the assistants and helpers. Keep the kitchen clean and in good order.
The number of people can vary greatly throughout the year, from 15 in the winter to 300+ during the peak season. The kitchen provides meat/fish-based and/or vegetarian meals two times a day in buffet-style. Occasionally catering also to events, birthdays, picnics, etc. The kitchen accommodates programmes' specific dietary requirements and provides more specific food options for people with dietary restrictions.
Knowledge, skills and abilities
You have experience in planning, managing stock and ordering food within a given budget
You know and observe the highest standards of food safety and hygiene
You are a creative and enthusiastic cook with a wide knowledge of meat-based, vegetarian,and special diet cooking and nutrition
You can work quickly and manage the pressure of the peak season
You have good kitchen management skills, you are organized and good at supervising team work
You have strong communication skills, you are patient and clear with instructions and feedback
You have a kitchen experience as main cook in a collective setting. Previous experience in kitchen management is required.
Kitchen experience in a dharma center is a plus.
English and French language skills
Apply!
Contact [email protected] or apply directly online.
Please be aware that you need a visa/work permit for the EU in case you are not an EU citizen.
---
Contact [email protected] or apply directly online.
Please be aware that you need a visa/work permit for the EU in case you are not an EU citizen.