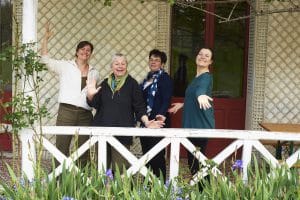 Shambhala is a worldwide community, active in more than 50 countries. It encompasses thousands of people following their personal development path and engaged with their family and society. In each centre across the world, practioners can access teachings and practice environments (dharma) and, equally important, they can benefit from exhanges with and support from other practioners (sangha).
Each of the 200+ centres, according to its size and location, offers trainings or retreats, evenings of meditation, talks, discussions, events, etc., providing the support for the practice of meditation and the action of each of us in the world.
Member of Shambhala
Advancing past first experiences in Shambhala, it is common that individuals feel a connection with the teachings and the vision of Shambhala, and express their interest to become a member of Shambhala affiliated to the centre that they frequent. This notion of membership is a question of curiosity, personal inspiration, as well as an engagement in the path of awakenment.
The status of member of Shambhala involves a certain level of personal committment and it offers specific advantages, such as fostering an ongoing relationship with a meditation instructor, invitations to community social and cultural events, or access to the programmes for which it is a prerequisite.
Among those who come to participate in programmes at Dechen Chöling, many are members already affiliated to their local urban centre, in France, Europe or elsewhere. On a more regional scale, Dechen Chöling is also the affiliated centre for a surrounding community of members. Find out more about Shambhala membership.
Member of "Association Shambhala Europe"
Association Shambhala Europe is the legal name of Dechen Chöling as a legal structure based in France. The activities of offering programmes of meditation and related services (accommodation, food…) is carried out by this French non-profit association.
Conforming to French regulations, all activities of this association are available to its membership only. Being a member necessitates subscribtion to its annual fee, statutorily fixed at €15 per calendar year.
In order to participate to any programme offered at Dechen Chöling, one should be up-to-date with their annual payment. If this is not the case for you for this calendar year, or if you are new to Dechen Chöling, this fee can be settled upon arrival.
The notion of membership of Association Shambhala Europe thus refers to a legal requirement in France and is unrelated to the more spiritual notion of member of Shambhala, explained above. The two notions are distinct.
These details are included here primarily for the understanding of non-French participants, for whom the concept of a French association is not well known, as it is not applicable in their own context.