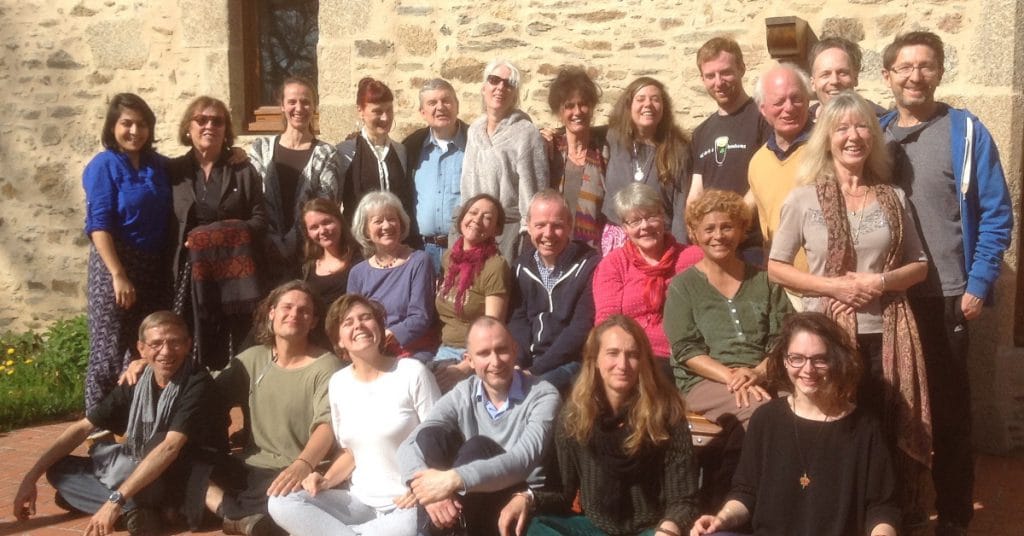 Dechen Chöling's mission is to welcome people from all over Europe, people who come here in order to begin or deepen their meditation practice. As the European residential centre of Shambhala, we offer programmes all year round, lasting one week or longer, complementing the city centres by enabling participants to immerse themselves in teachings and practice.
Reflecting the Shambhala vision of social transformation, our programmes are structured around three complementary pillars of Meditation, Culture and Society. Retreats are directed by senior teachers who have been practicing meditation and other related disciplines for many years.
Immerse yourself in a culture of goodness
The Shambhala teachings are relevant to all of us. They are at the same time spiritual and non-religious, deep and accessible, ancient and resolutely modern. They aim to transform our relationship to ourselves and others by connecting us through our experience of the present moment to our inherent goodness and wisdom. Such personal awakening makes awakened society possible.
While you are here, you will be living alongside newcomers as well as more experienced practitioners from France, Europe and elsewhere. Everyone is gathered here to work with their minds and to cultivate their innate qualities of sanity and brilliance, thereby participating in a culture of basic goodness.
It is in this spirit that you will be hosted. Our programmes are made possible by the collaboration of many people: teachers, other participants, permanent Dechen Chöling staff, programme personnel, patrons, etc. You will not be considered a "consumer" but rather as a person on a path, and an equal. All of our efforts are aimed at enabling you to have an experience which will be profound and inspiring.
Daily retreat schedule
Every programme and even every day of a retreat is unique and different. Thus the format depends on the retreat and how the programme director sets up the schedule, responding to the group's needs and other considerations. But to give you an idea of a "typical" programme day, here is a description and sample schedule.
7:00 – meditation
8:00-9:00 – breakfast
9.00-12.30 – meditation, study, talks, discussions
12.30 – lunch
13:00-15:00 – free time, rota
15:00-18:45 – meditation, talks, exercises, including a tea break around 16:30
18:45-19:30 – dinner
20:00 – evening activities
Living together
Upon arrival, you will be presented with a number of general rules designed to protect the harmony here and respect everyone at Dechen Chöling. You can already consult them by downloading this following pdf document: Code of Conduct.
Rota
Helping the smooth running of the environment is an integral part of the programmes at Dechen Chöling. You will be invited to contribute an hour of your time every day in the kitchen, the garden, the houselhold or elsewhere. From a buddhist perspective, this activity is very important in that it puts the teachings you are receiving into practice: it's an opportunity to  bring mindfulness into daily life, to put meditation into action.
Most participants appreciate this chance to build relationships with each other and with Dechen Chöling staff, and to get a taste of community life.
Our legal status
Within the French legal framework, the programmes and other activities at Dechen Chöling are offered under the terms of a charitable status which requires participants to be members of the « Association Shambhala Europe » in France. This involves paying a fee of € 15 each calendar year. If your membership is not up-to-date or if you are new to Dechen Chöling, this fee can be settled upon arrival.
Fundraising
At the end of Shambhala programmes, you will be invited to a short reception, usually hosted by the director of the centre. You will learn a bit about the functioning of Dechen Chöling and you will have an opportunity, if you wish, to make a financial contribution. The appeal to generosity is a buddhist tradition and every year the funds we collect play a very important part in keeping this exceptional place going and making the teachings accessible to as many people as possible. There is more information about how these funds are used in our Financial Policy page.
Other ways of participating
Newcomers often discover Dechen Chöling through our public programmes (without prerequisites): Retreats for All, Discovery Weekends and Sundays.
Other people prefer to experience a longer and more intensive period of immersion offering more time to integrate meditation, teachings and participation in community life. If this case, we encourage you to explore our Meditation in Action programme.
If you have completed certain levels on the Shambhala path, you may be able to apply to come here as a member of staff on one of our programmes.