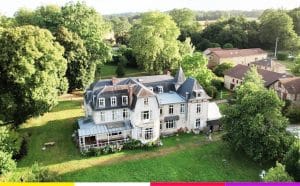 Dechen Chöling opens its doors for the Heritage Days.
The place
Located in the Vienne valley, it is a former porcelain factory, consisting of a small castle, a park with trees and numerous outbuildings. Today it has become a European Centre for Retreat, Meditation and Contemporary Arts.
The park, planted with majestic trees, offers a favourable setting for all those who wish to learn the practice of meditation and attention. This gentle and caring environment nourishes the mind and body and revives our perceptions and
and vital energy.
Programme Saturday
16:00: Free visit of the park and introduction to the practice of meditation.
2.30 to 4.30 pm: Guided tour of the castle and outbuildings at 2.30, 3.30 and 4.30 pm.
Programme Sunday
10.00am to 12.00pm: Two free introductory meditation practice sessions: 10.00am and 11.00am.
12.30: Vegetarian Lunch – Price 15.00 € – please register before 15/09 at: [email protected]
From 2.30 to 4.30 pm: Guided tour of the castle and outbuildings at 2.30, 3.30, 4.30 pm.
3pm: Free visit of the park and presentation of martial arts.
Demonstration of Kyudo -Archery- and Kinomichi -Japanese martial art-.
All people, regardless of their spiritual or religious affiliation (or lack thereof) are welcome, whether or not they have practiced meditation before.
Here people of different generations, nationalities and socio-cultural backgrounds, families and young people meet.
Together they undertake an inner journey.