A place of meditation for more than twenty years, the Dechen Chöling Centre can host your seminars when we have room in our schedule.
Come and enjoy our "land of great bliss" which offers an environment of nature and beauty with an exceptional energy, as well as many possibilities for accommodation, meeting or practice rooms, meals, transportation, etc.
For any request, please contact our office at [email protected]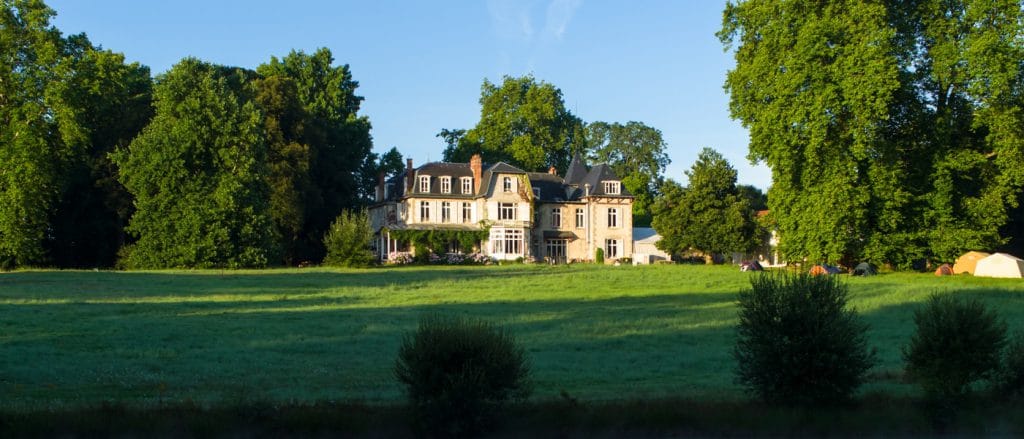 Our rates : 
A – The rooms : 
We offer for rent, upon availability, several seminar, conference and practice rooms of various sizes (47m2 to 158m2).
Rental per day:
Drala Hall :               250€ HT =     300€ incl.VAT (TTC)
Château :                 175€ HT =     210€ incl.VAT (TTC)
Aloka :                      125€ HT =     150€ incl.VAT (TTC)
Lion Room (meeting space) included
B – Accommodation in bedrooms, full board, with organic meals:
Our accommodation capacity is about 50 beds (28 beds in double room and 23 beds in dormitory).
Total for one bed in (room) :
Single :           70€/day, incl.VAT (TTC)
Double :         60€/day, incl.VAT (TTC)
Dormitory:     53€/day, incl.VAT (TTC)
This offer, adapted to accommodation with full board per day
includes (incl.VAT-TTC) :
3 meals & tea-time snack = 24€ (unlimited tea & coffee included)
Bed in single room = 39€, in double room = 29€, in dormitory = 22€.
Household service = 5€.
Complete bedding = 2€.
Rental of miscellaneous equipment & services: We can discuss your individual requirements.