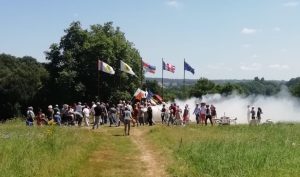 Shambhala takes its name from a legendary kingdom which was famous in all Asia for being an enlightened society. According to this tradition, the basis of enlightened society is the understanding that human beings inherently possess wisdom, compassion and goodness. In many cultures throughout history, these qualities have been nurtured through meditation and contemplative disciplines.
Today, the global Shambhala network brings together people of all ages and from all walks of life who are interested in exploring their own minds, transforming their experience, and awakening their potential. At a challenging time, when many human beings are doubting themselves and their ability to achieve their deepest aspirations for happiness and peace, the Shambhala teachings offer a precious invitation to wake up and act skilfully.
Brought to the West from Tibet in the 1970's by the Vidyadhara, Chögyam Trungpa Rinpoche and further developed by the current Sakyong, Jamgön Mipham Rinpoche, these teachings on meditation and the art of living in daily life as a 'warrior', are intended for all. They are at once spiritual and non-religious, deep and accessible, ancient and resolutely modern. They encourage us to respond to the social, ecological and spiritual issues of our time with compassion, bravery and inspiration.
The path of Shambhala is here to awaken us to the potential of our lives. It teaches us how to live meaningfully and vigorously, with joy. Its ancient but practical wisdom allows us to deepen our understanding. Through the practice of meditation, we discover that goodness, strength and wisdom are inherent in our own mind and being. Having gained this insight, we are able to maneuver through life with courage, intelligence and compassion.
– The Kongma Sakyong, Jamgön Mipham Rinpoché
More about the Shambhala path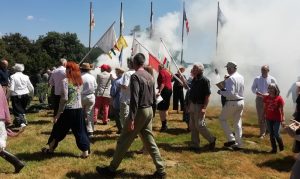 The Heart of Warrior Practice
Shambhala Training is organized in five steps. Each step includes a weekend retreat, and five series of courses which can be followed in the evenings depending on local possibilities.
By alternating week-end retreats and short course cycles you can progress through each of these steps at your own pace. The first three levels and three series of course cycles are opened to everyone. Students can jump in when they feel ready. Levels 4 and 5 cannot be taken without consulting a teacher or an instructor.
Step One:
« Ordinary Magic » –Shambhala Training Level 1
The practice of meditation gives us a glimpse of the fundamental goodness that lies at the root of our existence. By opening up to ourselves with gentleness and consideration, we begin to see our potential as authentic, compassionate human beings.
"Meditation in everyday life" course cycle
The "Meditation in Daily Life" cycle is designed to provide students with the tools and teachings to integrate meditation into everyday life. Through simple instructions, the practice of meditation becomes part of our lives, bringing us stability and clarity.
Step two:
"The birth of the warrior" –Shambhala Training Level 2
Having had our first glimpse of fundamental goodness, we want to go further. We begin to observe the cocoon of habits we create to mask our fears.
"Contentment in everyday life" course cycle
Practice provides us with a foundation for learning to appreciate ourselves and all our experiences, even the simplest ones.
Disruptive emotions and life challenges can be tackled with gentleness, firmness and humor.
Step three:
"The warrior in the world" – Shambhala Training Level 3
Our greater capacity for gentle self-examination leads us to wish to break out of our cocoon. We become more fearless and wish to approach the world more directly in all our activities.
"Joy in everyday life" course cycle
As our meditation practice deepens, we discover a reservoir of confidence and energy that enables us to move forward on our path.
This brings a sense of joy and bravery. The teachings on compassion become a source of inspiration for a joyful discipline free of doubt.
Step four:
"Awakened Heart"; – Shambhala Training Level 4
Trusting in the fundamental goodness, daring to experience the sharp side of reality,
we progress with gentleness, heightened vigilance and curiosity about the world as it is. We open up to others fully and tenderly.
"Fearlessness in everyday life" course cycle
We learn to smile at fear and see it as a friend. Through exploration of Buddhist teachings Buddhist teachings on the nature of reality, we dare to face life and death and open ourselves beyond the emotions of hope and fear.
Step Five:
"Open Sky"; – Shambhala Training Level 5
Having established a gentle, fearless relationship with the world, our alertness sharpens and we discover the open sky of the mind – a fresh source of wisdom and inspiration. We trust our nature enough to surrender to the present moment.
"Wisdom in everyday life" course cycle
Meditation sharpens our intelligence and reveals our wisdom. Students will receive practical instructions to transform emotions and conflicting situations into awareness and action.
The challenges of daily life become opportunities for practice.