100% Organic
Dechen Chöling aims to provide 100% organic food to all programme participants and its staff. Since 2010, we began to source as many high quality organic ingredients as we can from local bio-organic farmers.
Onsite, we have cultivated a thriving organic vegetable garden enabling us to produce a significant share of our needs throughout the year. Find out more about the ambitious Ziji Garden project here.
We've extended our organic policy beyond the food we serve: we use only organic cleaning supplies and we implemented a reed-bed waste water system to reintegrate our waste safely back into the environment.
Our service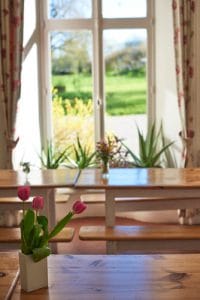 Most meals are served buffet-style in our dining room, or our "dining tent" during summer months. In accord with the seasons and the inspiration of our cooks, we serve an array of French and international dishes in varying styles. We are pleased to offer you healthy and tasty meals based on high quality organic ingredients. The standard menu we prepare is primarily vegetarian. A meat or fish alternative will be offered 2/3 times a week.
Meals are offered at set times, three times a day: breakfast 8:00-9:00, lunch 12:30-13:15 and dinner 18:45-19:30. Programmes often offer a light tea-biscuit break in the afternoon. There is always access to fresh fruit, bread and tea throughout the day.
Charges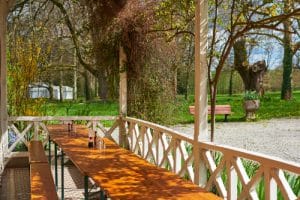 Food is charged at a fixed rate of €23 per day and is calculated according to the programme length. This amount reflects the cost of a self-service breakfast, two meals and tea snack.
The cost per day for children's meals (5-12 years old) is €11.50. Children under 5 years cost €5. Visitors wishing to stay for one meal pay a rate of €8.50.