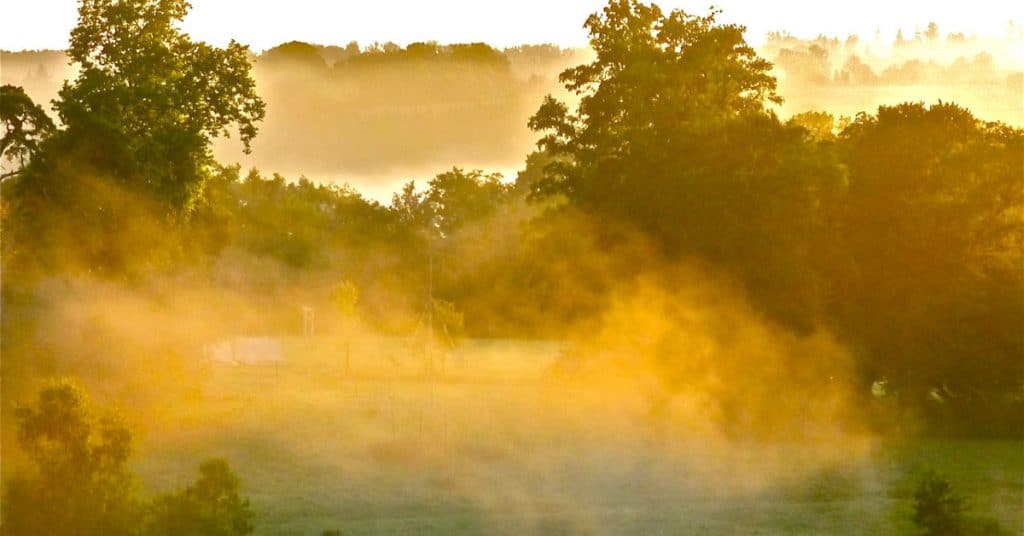 Dechen is a Tibetan word which can be translated as Great Bliss, while chö refers to Dharma, or the teachings of Buddha, and ling denotes a place. Thus, the title of our centre, Dechen Chöling, translates to the Dharma Land of Great Bliss. Our unique retreat centre is nestled among the beautiful soft green hills of Limousin region, France. The main château and surrounding farm buildings sit in an open yet protected landscape. The grounds surrounding the buildings are dotted with century-old trees, flower gardens brimming with roses, and rolling fields. Our extensive 56 hectares comprise of serene fields and lush forests. Some of this land has been adapted as amenities and camping sites (we have six operational camp-grounds), while the remaining land remains unspoiled in its natural form.
History of the land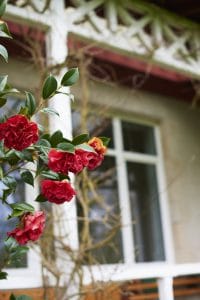 From the beginning, Dechen Chöling's development has been guided by the desire to provide a healthy and peaceful practice environment for visitors and meditation students. The site was chosen not only for the buildings and potential they held, but for the energetic quality of the land. Sakyong Mipham Rinpoche, lineage holder of Shambhala was very excited about the selection of this site over other spaces considered in Europe at the time. Eva Wong, famous Chinese Feng Shui master, holds that Dechen Chöling is a unique meditation centre, with lands optimal for people who wish to integrate spiritual and family life. According to Master Wong, it is also a beneficial place for people who are either beginning on their spiritual path or trying to enter again after a long break.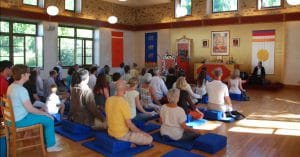 Since its purchase in 1994, an enormous amount of effort and investment has gone into the renovation of Dechen Chöling, primarily thanks to contributions from members of the community. The first thing to be renovated were the main building, the Château and three of the smaller surrounding houses. These spaces now host the modern kitchen, our rustic dining room, our cosy meditation space, and many of our offices. Among many ongoing improvements and repairs over the years, include the development of a childcare area and playground, verandas and a café-boutique. Over a decade ago we succeeded in the landmark renovation of the old coach-house into the spacious Drala Hall, with inspiring energy and a bright calm atmosphere, parquet floors, grand shrine room and modern participant accommodations. In 2016, the centre acquired a closeby house now called Ziji House. Early in 2017, the Château also received both external and internal renovations, as many of our offices were transplanted into the energetic heart-centre of our grounds.

Kami Tree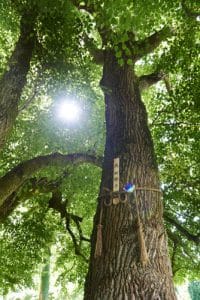 In the late 1990s, Kanjuro Shibata Sensei XX, Japanese Kyudo (art of the bow) master, and bow-maker to the Emperor of Japan, designated the impressive and ancient tulip tree on the lawn in front of the château as a Kami Tree. Kami trees according to the indigenous Shinto tradition of Japan, are places where spirits or beings of the natural world live. Kamis can be thought of as deities, embodying a powerful, awakened energy comparable to the dralas of the Shambhala tradition. The principle of Kami represents the sacredness, generosity and power of the world we live in. Designating a tree as a kami tree – recognising its sacredness – is a way to magnetise the energy of the particular kami inhabiting it. The kami of Dechen Chöling land is said to embody feminine energy and the principle of motherhood. Shibata Sensei's successor, Shibata Kanjuro XXI, continues to lead summer Kyudo programmes at Dechen Chöling, making use of our purpose-built Kyudo arena, and conducting the annual Kami Tree Ceremony, as his predecessor before him.
Features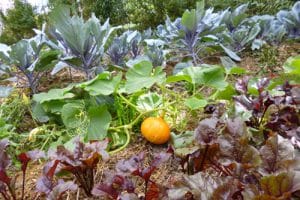 The authentic French vegetable garden at Dechen Chöling has blossomed into the Ziji Garden project, which uses permaculture techniques to produce a diverse range of bio-organic vegetables and herbs for use in Dechen Chöling's kitchen. In addition to providing nourishment, the garden's flowers decorate and adorn shrines and other spaces, while also supplying our contemplative flower arrangement (Kädo) classes. The grounds of our garden include an orchard with native apple varieties, beside which we house and maintain a number of bee hives. Covertly housed nearby is the reed-bed waste water system we implemented to reintegrate our waste safely back into the environment.
The beautiful, heart-shaped lake, nestled below the château, is filled with carp and offers itself as a gentle harbour for respite. A large square field, where huge assemblies and outdoor retreats are hosted, is visible beyond the lake, with steward torii gate at its energetic centre.
Surroundings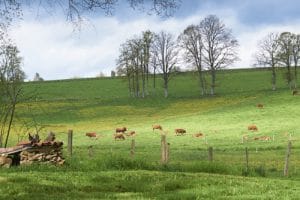 Guests and participants appreciate the countryside atmosphere, easily accessed in the areas which surround Dechen Chöling. Nearby meadows and farmland are grazed by cows and horses, while the energetic Vienne river passes nearby. The immediate area lends itself well to short or long walks, energetic runs and hikes, and short dip in cool water. Small sleepy French villages are in found at a short distance from Le Mas Marvent. You may take a trip to nearby Saint-Junien or Saint-Victurnien towns, where you can rent a bike or enjoy a coffee at one of the local boulangeries.