Dechen Chöling has a charitable status, which means that we receive donations tax-free.
100% of your donation supports our activities!
---
Ways to donate
The form above (the green button) can be used to make a donation in the following ways:
make a one-time donation online by Credit Card
make a one-time donation by direct bank transfer
make a monthly donation by automated bank transfer
Bank information – France and International
All payments made using the form are linked to Dechen Chöling's account in France. Bank details can be found below.
Payments can also be made to Shambhala Europe GmbH, in Germany, and Shambhala Nederland, in the Netherlands, as these entities subsidise Dechen Chöling.
See information below for bank transfers.
Bank Transfer Information
Organisation
Name of Bank
Association Shambhala Europe

(France)

SG LIMOGES ENT
IBAN:
FR76 3000 3035 8600 1500 1018 760
Swift/BIC:
SOGEFRPP
Shambhala Europe,
GmbH( Germany )
Sambhala Europe GmbH
Volksbank Köln Bonn eG
Hohenzollernring 31-35, 50672 Köln
IBAN:
IBAN DE74 3806 0186 4602 0270 10
Swift/BIC:
GENODED1BRS
Shambhala Nederland
SMCA Dechen Chöling( Netherlands )
Triodos

IBAN:
NL83 TRIO 0784 9120 68
Swift/BIC:
TRIONL2U
Cheques
At this time we can accept French cheques only.
Make out to: Association Shambhala Europe
Send to: Centre Shambhala Dechen Chöling, Le Mas Marvent, 87700 Saint-Yrieix-sous-Aixe, France
Charitable Status (Intérêt général)
In 2017 Dechen Chöling obtained charitable status in France, known as 'intérêt général'. As a result, all donations we receive are not subject to any tax. 100% of what you give stays with us!
Why Donate?
Donations are an essential component of Dechen Chöling's financial strategy and sustainability. The initial acquisition and renovation of the château and its grounds in 1994, was only made possible by contributions from members of our community. For more than twenty years since then, donations have continued to support the centre and enabled us to maintain and develop our facilities and to increase our capacity. We are grateful to our Shambhala sangha for this ongoing support.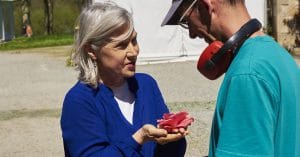 The donations we receive are used in many ways. Donations help us to make our programmes more accessible to people with lower incomes through reductions, scholarships, sponsored positions. Donations support additional services we provide free of charge to participants of programmes, such as our translation service and accessible infrastructure. A large portion of funds raised also get invested into large renovation projects, helping us to refurbish outdated buildings and infrastructure, as well as projects to uplift our facilities and our land. We warmly invite your generosity and inspiration to help Dechen Chöling to grow and flourish.
Contact
For further information about making a donation, please contact us at [email protected].