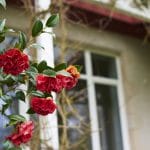 All are welcome to visit the unique lands of Dechen Chöling. There are a number of ways you can do this. Check out our discovery weekends or join us for one of our longer retreats or programmes. The Meditation in Action programme is available all year round with flexible length. Day visits are possible in our off-season from late September to early June. It is also possible to accommodate personal retreats during this period.
Discovery Weekends and Sundays
Nyinthün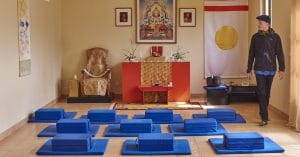 From September to June we offer a monthly nyinthün, or day-long meditation retreat. This free day is open to all, one Sunday each month, from 10:00 to 17:00. The day alternates between meditation, talks and discussion groups, and is appropriate for both beginners and experienced practitioners.
Discovering Meditation Weekends
From time to time our calendar features discovery weekends, offering a chance for those who wish, to discover (or rediscover) the practice of meditation as it is transmitted in the Shambhala tradition. No previous experience or knowledge is required for these short retreats, which form a delightful introduction to the Land of Great Bliss.
Meditation in Action (2 weeks minimum)


Our Meditation in Action Programme (MIA) offers participants the possibility to experience daily meditation, teachings and community life – as a path that allows us to recognize the basically good nature of human life and society. This programme is flexible in length but we ask participants to commit to two-weeks minimum, to make the best of this immersive experience. Read more and apply online here.
Register for a Programme
Find our more about participating in our programmes or check out our list of programmes. If you wish to receive a flyer or printed programme calendar you can contact our office at [email protected] or call +33 (0)5 55 03 55 52
Day Visits / Personal Retreat
In the low-season only, late September through early June, short term visits and personal retreats can be accommodated according to our capacity on land. These arrangements are considered on a case by case basis. Visitors are offered a personal meditation instruction free of charge. Visitors are asked to contribute 1 hour of rota per day. If you're interested in this please ensure that you give us a minimum of one week notice.
To send us your visit request, please complete the online form here.
Please note that we do not offer any transport service for visitors, meaning you will need to find your own way to Dechen Chöling. There is a bus that runs from Limoges to Dechen Chöling and taxis from the train station and airport. Also think about car sharing solutions (blablacar). Please let us know if you would like us to send you more information: [email protected]