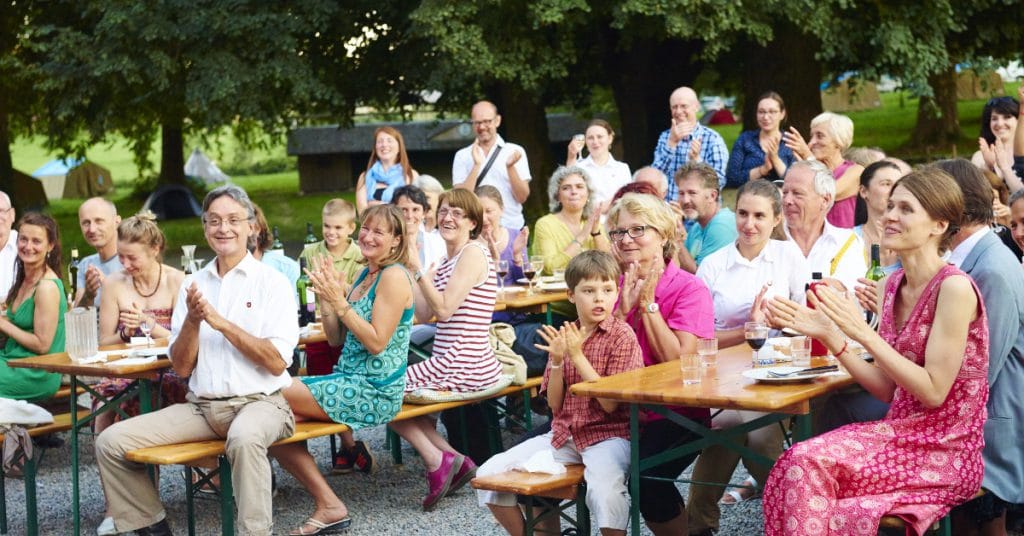 The principle of community is central to the vision of enlightened society, which is at the heart of the Shambhala path. At the most simple level, even a brief interaction with one other person is an opportunity for genuine exchange, for freshness and flexibility. From there the scope widens, and the ultimate ambition of Shambhala is to shift the destiny of our world through the recognition and practice of basic goodness. Our community is not trying to manifest some kind of utopian ideal: rather we work genuinely with who and what we are, acknowledging our confusion and our neurosis, thus allowing our wisdom to flourish. We use the path of everyday life to develop and practice courage and compassion.
Community at Dechen Chöling
There are many ways to be part of the Dechen Chöling community. A core group of staff are committed to living and working and practising here on a longer-term basis. The staff group is extended and enriched by temporary guests and visitors, in particular, participants on the Meditation in Action programme and helpers as programme staff. Beyond that a network of friends and neighbours, some of whom are former residents of Dechen Chöling, make an important contribution to our community, and the local group from Limoges uses our facilities on a regular basis. Participants from all over Europe attend programmes throughout the year and, while they are here, they are primarily regarded and treated as temporary members of our community rather than consumers or clients. Many people contribute in different ways at different times, for instance beginning as a participant, then returning to help out with a particular programme, applying for a staff position or contributing time or money. Sometimes staff take time out to participate in a programme or act as an interpreter.
Global Community
More broadly, Shambhala is a global community and you can find out more about the organisation as a whole at https://shambhala.org. In Shambhala, we strive to foster a welcoming atmosphere free of prejudice and accessible to all. Although some of our programs and events are open only to those who have fulfilled certain prerequisites, everyone is welcome regardless of religion, spiritual tradition or teachers, path of practice, opinions, class, nationality, culture, ethnicity, race, language, age, gender, sexual orientation, or physical, perceptual or mental abilities. Our meditation centres and groups around the world are committed to creating a practice, study, and work environment in which all individuals are treated with respect and dignity.