Dorje Kasung Clan Gathering
Kasung Academy, the 22nd Dön Days Dorje Kasung Clan Gathering at Dechen Chöling.
This year, we will have Thursday 8th and Friday 9th of February for different training tracks, workshops and meetings about education, NCO, MPE preparation and more.
Dön Days weekend programme will start on Friday evening until Sunday afternoon.
Sacamano, Rupön will lead us in study and education using the international Dorje Kasung 2018 theme that will be studied and celebrated at gatherings all over the world.
Come and reconnect with our forms and practices: saluting, uniforms, drill and mess in the beautiful French countryside and all-together rejoice in our clanship once again.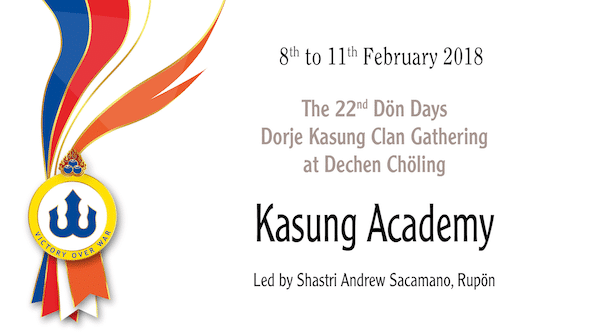 Orders of dress: Service (#2), Barrack (#5), Field (#6) and work Detail (#8).
If you are interested, oaths and lungs will be available. Tick boxes during registration.
Prices:
Full Dön Days retreat (from 7 to 12 Feb.): 250€ / 350€
Dön Days weekend only (from 9 to 11 Feb.): 130€ / 180€
More options available on the online registration form.
If you have questions send them to Caitlin Hellerer, coordinator of the programme: [email protected]
---