Scorpion Seal Assembly 5
Meditation retreat for advanced students of the Shambhala Buddhist tradition.
Registration is closed for this programme.
Prerequisities for this program are completion of Scorpion Seal Assemblies 1-4 and the practice requirements specified for each. Note: participants are asked to not do more than one Scorpion Seal Assembly per year (or program season).
It is not necessary to apply to the Shambhala Office of Practice and Education in order to attend Scorpion Seal Assembly 5. The Land Center will verify that you have completed SSA's 1-4 when you register.
The standard price displayed below now includes the late registration fee of €100 € (registrations made after the 14th of April).
In case of important variation on the exchange rate between dollar and euro, the Sakyong's honorarium included in the global price might be adapted.
If you have financial difficulties but would love to attend a program, please contact [email protected] to discuss an arrangement (scholarship, installments etc.).
If you are interested in taking a staffing role in this assembly, please contact the coordinator Hans Henning Heide [email protected]
Practical
This program is taught in English. Translation into French or other languages are available at no extra costs. Please give us notice of your request as early as possible, so that we can provide translation service.
Arrival day (June 14): Orientation talk at 8 pm. You're invited to come from 4 pm in order to register and settle in your room. Dinner is served at 6.45 pm.
End of program (24 June): Closing circle and Banquet in the evening.
Departure day (25 June): You may leave anytime (no program). You're welcome to stay for lunch.
Teachers
Mathias Pongracz
In 2005, Mathias Pongracz was appointed Acharya, or senior teacher, by Sakyong Mipham Rinpoche. 2006 – 2011 he was the Acharya-in-residence at Dechen Chöling. He has studied and practiced under Chögyam Trungpa Rinpoche and Sakyong Mipham Rinpoche for more than 25 years. He also studied closely with Kobun Chino Roshi from 1992 until his paranirvana in 2002.
Mathias is also a qualified and experienced teacher for "Mindfulness based stress reduction" (MBSR).
Marianne Bots
Marianne Bots resides in the Netherlands where she joined the Shambhala community in 1977. She is a psychologist and psychotherapist who has worked more than 30 years in a clinic for young adolescents as a therapist and Head of Treatment. Recently she and her partner and colleague Lisette van Ardenne have begun offering Mindfulness Based Cognitive Therapy, Mindfulness-Based Stress Reduction, Focusing and Coaching-Therapy within the context of a culture of Basic Goodness at a private institute for "Fundamental Health".
She attended Vajrayana Seminary in 1982 and served as a Dorje Kasung for twelve years. She has been active in the leadership of the Arnhem Shambhala Centre and the European Council. Acharya Marianne Bots is teaching throughout Europe.
David Hope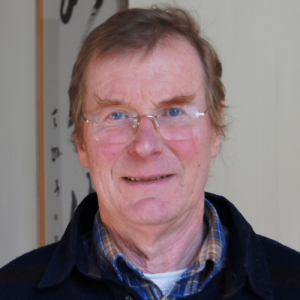 David Hope has been a student of Chögyam Trungpa Rinpoche and Sakyong Mipham Rinpoche for the past 30 years. He helped establish the London Shambhala Centre in the 1980's. Since then he has taught widely in Europe and other countries worldwide, including Australia, New Zealand and South Africa. He has been involved with Dechen Chöling since its beginnings in 1995, as a co-director and in many other ways.
In 2005 he was appointed as Acharya (a senior teacher) for the Shambhala community. He lives in England with his wife, Christina de Block.