Henriette Versteijnen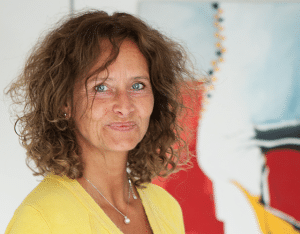 Henriette Versteijnen is a sexologist and bodyworker,  who invites people to open up more to the flow of Eros, both in their body and in their life. 'Eros' does not simply mean sexuality and intimacy with a love partner, but also our capacity to pleasure ourselves, reach out to others and sensually enjoy life in general.
She has worked in the Dutch mental health system for 35 years now, educating professionals about the importance of intimacy and sexuality for wellbeing on all levels: physical, mental, emotional, relational and spiritual. In her private practice in Rijswijk, not far from Amsterdam, she supports men, women and couples with their questions and struggles in the area of sexuality and intimate relationships.
She has been married for a total of 26 years and is a mother of three grown-up children…She knows the path of working on a relationship, still growing apart, continuing life on your own and finding your way again in connections with others.
In mainstream mental health care, she has realised how our Western, one-sided emphasis on symptom treatment fails to provide sufficient healing for people. The search for better answers led her to meditation and mindfulness, a degree in Comparative Religion, a four-year professional training in Iokai Shiatsu and many courses and retreats in Tibetan Buddhism, traditional tantra and modern Jewish mysticism. Following the same stream, Henriette has been a member of Shambhala since 2010 and, since then, she has done all the programmes until Warriors Assembly. She has also done Shambhala teacher training in Amsterdam. 
Upcoming Teaching at Dechen Chöling