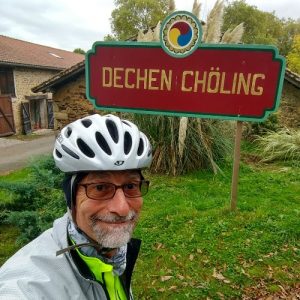 I came to France in September 2017 to find solace from major life changes. I had dreamed of reconnecting with my French relatives for years and finally took the opportunity of doing so. After staying with cousins in Brittany, I'd planned to cycle south through France and then into Spain for the winter.
As a one-time Shambhalian – I was a sangha member at the Milwaukee Shambhala Center for a few years in the late '90s and early 2000s – I remembered that there was a land center in France. So when I realized that my route would take me very close to Dechen Chöling, I decided it was worth investigating. I applied for the Meditation in Action programme via the website and was accepted. I expected to stay for two weeks.
I'd been suffering burnout from working as a registered nurse in the American healthcare system, and the experience of combining regular meditation with everyday life resonated with the holistic model which informed my nursing practice and career.
I arrived at Dechen Chöling in October, and six months later, I'm still here! It's been great to put my diverse skillset to work in a setting where I get to practice "meditation in action" everyday. Being immersed in a community of meditation practitioners and Dharma teachers has been  a boon to my meditation practice.
I believe in the idea that work can be a path to fruition; that it presents opportunities in learning the dharma. The Meditation In Action programme encourages I "work" the Dharma, everyday. For me, this experience has been a wonderful way to return to Shambhala and living in the moment. Dechen Chöling is located in a beautiful natural setting, the staff and the other MIAs are interesting people from all over the world who bring with them unique life and work experiences. Living in and contributing to a community like this is very rewarding.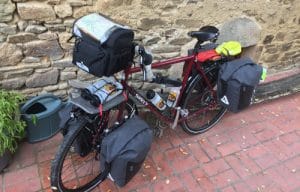 I've chosen not to go to Spain for the winter after all. Reconnecting with Shambhala and meditation practice after so many years away has revitalised me. The Meditation In Action programme is providing me with the spiritual and psychological renewal I had been searching for. I'm much more optimistic these days and once I'm sufficiently recharged I anticipate returning to a society in need of help; I once again know that my contribution makes a difference! Thank you Dechen Chöling.
Denis B, 60, USA