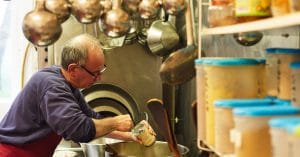 Do you wish to bring your experience as a cook to an inspiring community environment? It's time to apply, we're looking for a Head of Kitchen starting early 2018. Discover the working conditions at Dechen Chöling and the specifications of the open position:
Head of Kitchen
Full time position
Start date: February 2018
With overall responsibility for Dechen Chöling's kitchen, the Head of Kitchen holds the view that kitchen and food are at the heart of life at this retreat centre. This supplies providing wholesome and delicious food for visitors, participants and staff, and fostering an uplifted kitchen environment mixing discipline and joy.
Key tasks and responsibilities
Supervising between 2 and 12 people including lead cooks, kitchen assistants and volunteer prep-chefs from programmes.
Organisation of: weekly menus, work shifts, the supervision of food orders and supplies, within budget and the management of stock and food storage space.
Regularly orient and train the assistants and helpers. Keep the kitchen clean and in good order.
The number of people can vary greatly throughout the year, from 15 in the winter to 300+ during the peak season. The kitchen provides meat/fish-based and/or vegetarian meals two times a day in buffet-style. Occasionally catering also to events, birthdays, picnics, etc. The kitchen accommodates programmes' specific dietary requirements and provides more specific food options for people with dietary restrictions.
Knowledge, skills and abilities
You have experience in planning, managing stock and ordering food within a given budget
You know and observe the highest standards of food safety and hygiene
You are a creative and enthusiastic cook with a wide knowledge of meat-based, vegetarian,and special diet cooking and nutrition
You can work quickly and manage the pressure of the peak season
You have good kitchen management skills, you are organized and good at supervising team work
You have strong communication skills, you are patient and clear with instructions and feedback
You have a kitchen experience as main cook in a collective setting. Previous experience in kitchen management is required.
Kitchen experience in a dharma center is a plus.
English and French language skills
Apply!
Contact [email protected] or apply directly online.
Please be aware that you need a visa/work permit for the EU in case you are not an EU citizen.